Everything about it seemed off in the beginning.
'The Big Band' was going to be streaming network iQiyi's next big reality TV extravaganza, following on the success of Rap of China. It was going to involve…older "indie" bands from the late 2000s?
Wait, what?
Squaring off in the usual dramatic reality TV fashion, complete with the cutesy plinky-plonk noises and on-screen emojis, like Korea's Running Man??
It decided on this aesthetic to reflect its true rock'n'roll soul???
The show did not get off a great start. Everything about it was the epitome of "middling" – the ensemble of bands (even as it included some class acts like Hedgehog), the sponsorships (a Yoghurt brand) and the numbers – not disastrous but nowhere as popular as Rap of China.
It seemed doomed.
But slowly…something changed.
Once the heavy exposition of the first few episodes settled into a pattern, the relentless positivity of the show began to charm its growing audience, even as many admitted that it was "kinda lame".
The show was a Bollywood-esque take on a certain era of Chinese indie rock, and had that same "feel good" factor one would associate with a Hindi rom-com.
It had a dashing cast of characters: Taiwanese reggae troublemakers Matzka, the glam-rock magic of Click#15, the too-cool-for-school vibes of Penicillin and Hedgehog.
If this was a Bollywood production, the flaws, too, were the same: awkward pacing, razor-thin archetypes, repetition. Its censorship of song lyrics bordered on the surreal. Oh, and sometimes you want to just skip the music.
The show reflects, mostly, the music of a certain 'lost generation' of wilder creativity from the mid-to-late 2000s, presenting it as nostalgia and wrapping it up in positive mantras like "power of soldiering on".  There's a sense of melancholic tragedy to it all: so many of the bands on the show (New Pants, formed in 1996; Miserable Faith; Reflector) have members in their 40s, still plugging away in the face of generational indifference. Others, like Hedgehog and Click#15 frontman Ricky Sixx, were part of a burgeoning, blazing Beijing scene in the late 2000s that was systematically stamped out by a combination of the city's urban policies and a speculative rush that inflated then collapsed the festival scene in the 2010s.
But to the post-85 generation in China, its irresistible. To the bands, it's validation. A mass audience paying attention to terms like "BPM" and picking apart songwriting and genre. It's a throwback, but with interlocutors who can speak to the present and future.
Think 'Stranger Things' meets 'American Idol': a strange form of mild therapy for audience and participants.
By Episode 6, we'd seen sepia-tinted flashbacks to the heydays of D-22 (it was only 8 years ago, guys), cameos by members of Carsick Cars, and genuinely moving personal stories of what music means to these bands.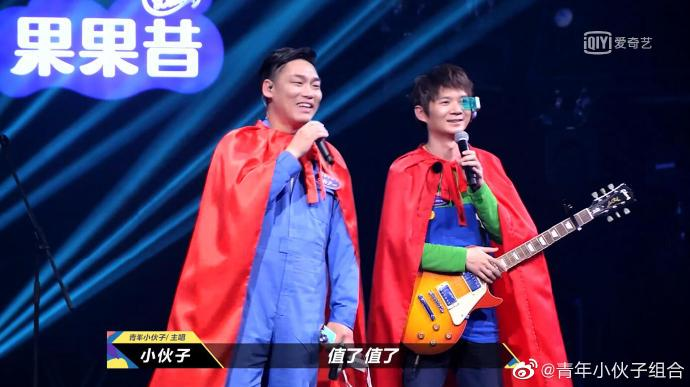 Radar regulars know we've been pushing for the 'mainstreaming' of the underground for years. With 'The Big Band', it might actually be happening. It's not the form any of us insiders expected it to take, but hey: you can never control commercial success, but you do have control over artistic success. These bands stayed true to their ideals and did their time: reality TV fame, while a weird flex, is a well deserved and long overdue recognition.
**
As the show barrels to its conclusion, we're witnessing the pitfalls of reality TV presenting rock to a wider audience: to "fit", it has to take on the characteristics of mainstream pop and made-for-TV galas. The gimmicks surpass the music. The judges passing down opinions aren't critics or experts, but online influencers like pop idol Wang QingFeng, various comedians and Weibo/Tiktok celebrities. Pop star Chris Lee was a judge in the season finale.
This is important because a popular take on this show is that it will increase attention to all rock and indie music in China. Radar, on the other hand, believes it might not: pop music tends towards cults of personality, whereas rock is more…tribal around sound and feel and look. The bands on this show will see huge spikes in popularity. The broader scene will likely not.  The Rap of China certainly spawned some insta-celebrities, but most, if not all, have reverted to type once the halo effect of the show recedes.
That said, every band from the show that has announced a tour – SiSiYeFan, Click#15 – have sold out gigs in minutes. IQiyi itself is touring some of the winners. Whatever our hesitations, more good music is reaching China's music fans and that, on balance, is a proper "feel-good" ending.